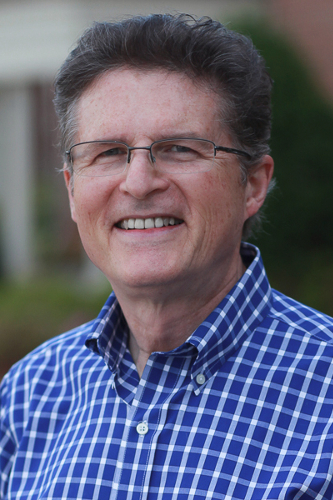 Gary Hallquist
Gary F. Hallquist, Minister of Music and Worship, was born July 13, 1954 in Shreveport, Louisiana. He is married to the former Sherrell Ingram. They have three children: Kevin Hallquist, Virginia (Gini) Hallquist Young, Meredith Hallquist Peel; and two grandchildren: Livingstone (Stone) Gary Hallquist and Mercy Reese Young.
Gary completed a Doctor of Worship Studies degree from the Institute for Worship Studies in Jacksonville, Florida in June 2006. He holds a Master of Theological Studies from Beeson Divinity School in Birmingham, Alabama. He received a Master of Music degree from North Texas State University in Denton, Texas and a Bachelor of Music Education from Oral Roberts University in Tulsa, Oklahoma.
Gary previously served as Assistant Professor of Worship Ministries at New Orleans Baptist Theological Seminary. He has served as Minister of Music and Music Associate at a number of churches in Alabama, Georgia, and Louisiana, which include: Roseland Park Baptist Church, Picayune, MS; First Baptist Church, New Orleans, LA; Shades Mountain Baptist Church, Birmingham, AL; Dunwoody Baptist Church, Atlanta, GA; Broadmoor Baptist Church, Shreveport, LA; and Barksdale Baptist Church, Bossier City, LA. He is a widely published composer of church choral music and a recording artist. He plays the saxophone, clarinet, and flute.
Music has been an integral part of the worship of God since "the morning stars sang together" at the creation (Job 38:7). David established entire villages of musicians set apart for temple worship (I Chron. 25:6–8). Paul tells believers they are to "sing and make melody in their hearts to the Lord" (Eph. 5:19, Col. 3:16). The Revelation of John tells us that music will surround the throne of God in the worship of heaven (Rev. 5:13). Music gives wings to praise. It gives expression to our human emotions as we worship the Creator. Martin Luther said, "next to the Word of God, the noble art of music is the greatest treasure in the world. It controls our thoughts, minds, hearts, and spirits." Music in the church should have the glory of God as its objective. It is never "music for music's sake" in the church. As Bach reminded us at the bottom of every manuscript: SDG (Soli Deo Gloria). Music is a wonderful vehicle for the teaching of theology, as in timeless hymns such as Holy, Holy, Holy. It also enables our praise, as in new songs such as Here I Am to Worship. Scripture commands us to "sing a new song unto the Lord" and commands musicians to perform skillfully with voices and instruments (Ps. 33:3). All music is to be offered to God with excellence, yet an excellent performance is never the objective of church music. The glory of God is the only biblical objective. "Whatever you do, do it all for the glory of God." (I Cor. 10:31b)
Browse Publications