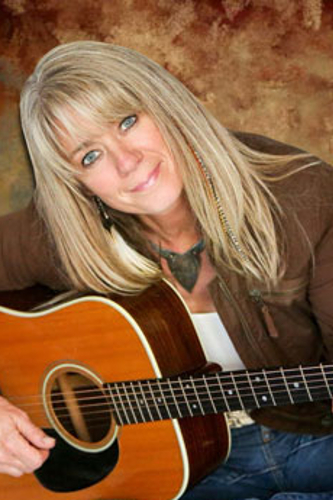 Janie Lidey
Janie Lidey is the Director of Choral Music and Guitar Studies at East High School in Anchorage, Alaska. She has been teaching for twenty years, twelve of which have been at East High. Her program was named a Grammy Signature Gold School by the National Academy in 1999, and is on the list of finalists again this year. Her swing choir recently won a Goldie Award, the highest award given in Alaska Television. The award was given for their performance of a piece that Janie composed and arranged for a public service announcement that has been on the air for the past two years on the NBC affiliate in Alaska. The song, "Change of Heart" (which is now published and available through Heritage Music Press) also just won Janie an Emmy Award at the Northwest Regional Emmys under the category of musical composer.
In addition to her responsibilities as a high school teacher, Janie has established a name for herself as a musical composer/performer. She recently released her first solo CD, entitled On Solid Ground, on which she features her Emmy award winning composition, "Change of Heart."
Janie received her Bachelor of Arts in Education degree from Pacific Lutheran University in Washington State and went directly to the villages of Alaska where she taught guitar, piano and voice in some of the most remote areas of the state. After teaching K–12 music in the bush, and then K–6 as well as middle school choir and guitar in the Anchorage area, Janie landed her dream job at the most diverse high school in the city of Anchorage. Her students speak over thirty different languages and celebrate their diversity with enthusiasm. Her song, "Change of Heart," which delivers a message of tolerance, has become the theme song for East High School.
Janie currently resides in Anchorage, Alaska, with her husband Sean and her son Tristan.
Browse Publications