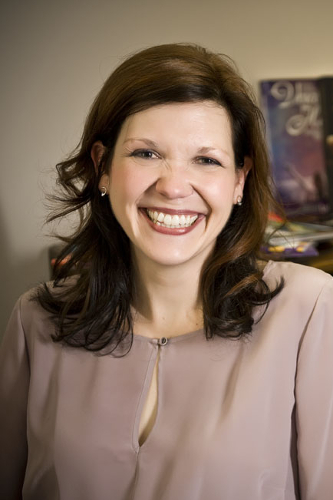 Kris Kropff
Kris Kropff joined The Lorenz Corporation in 2000 and was named President, Music Publishing in September of 2011. In the intervening decade, Kris learned the music publishing business from the ground up as she served the company in a variety of capacities. Beginning as an Editorial Assistant for various sacred keyboard and instrumental titles, Kris soon developed the position of Editorial Coordinator to help streamline workflows and improve and implement new software applications.
In 2006, her editorial role was expanded to include leadership of the Heritage Music Press General Music catalog. As part of this position, she also served as founding editor of the general music magazine Activate!, and her connection to this market further extends into her 2011–2014 term as Industry Representative on the National Board of Trustees for the American Orff‑Schulwerk Association (AOSA). In addition to authoring numerous general music resources, Kris has edited more than a dozen textbooks for Lorenz, Heritage Music Press, and Roger Dean Publishing Company and continues to serve as Literary Editor.
Named Vice President, Marketing in 2008, Kris's responsibilities changed to include developing and directing advertising strategies—print and digital—for our more than 500 new music titles released each year; partnering with resellers throughout the U.S. and Canada on co‑operative promotions; attending various industry conventions; and overseeing the company's sales and service team. In her current position, Kris enjoys facilitating the work of our amazing team of editors, composers, and Dayton staff as we continue on our long‑term growth path.
Kris graduated summa cum laude from Wright State University (WSU) in Dayton, Ohio with a Bachelor of Music degree in Music History and Literature. As a student, she performed as part of numerous ensembles, playing clarinet and bass clarinet in Wind Symphony, saxophone in Jazz Band, and reed player for many of the university's award‑winning theatre productions. In 2010, she was named the Music Department's Alumni of the Year.
An avid reader and fan of books on paper, some of Kris's favorite authors include Dave Eggers, Nick Hornby, and Margaret Atwood. As for other hobbies, she doesn't miss a kettlebell workout at The Edge if she can help it; jumped out of a perfectly good plane—twice; has a 1977 Suzuki 650XS motorcycle; and is a licensed open‑water diver, which is a great excuse to vacation in watery locales.
Browse Publications