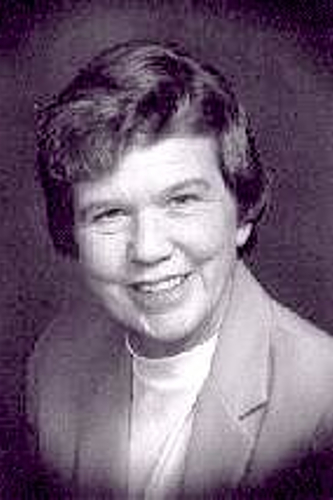 Natalie Sleeth
Born in Evanston, Illinois to musical parents, Natalie Sleeth began taking piano lessons at the age of four. During her school years, she participated in various choirs and ensembles. As a student at Wellesley College, she majored in music theory, studied piano and organ privately, and sang in the Wellesley College Choir. After graduating in 1952, Natalie married Ronald E. Sleeth, a Methodist minister and assistant professor in Homelitics in Evanston. She continued taking organ lessons, this time at Northwestern University, and served as the organist of the Glencoe Union Church in Glencoe, Illinois. The family moved, first to Nashville, Tennessee and then to Dallas, Texas, where they lived until Natalie's death in 1992.
In 1965, Ms. Sleeth became the director of the children's choirs at Highland Park Methodist Church. Encouraged by Lloyd Pfautsch (under whom she studied at Southern Methodist University) and Jane Marshall, Natalie began arranging music in 1968. As a musician and a poet, Natalie wrote both the words and music for all her songs. At the time of her death, Natalie had written over 180 published songs for church and school choirs, including the standards "Jazz Gloria" and "Gaudeamus Hodie."
Natalie once remarked, "I'm having the time of my life," and it is clear that she succeeded in communicating this feeling to the countless singers, musicians, and music‑lovers who know her music.
Browse Publications