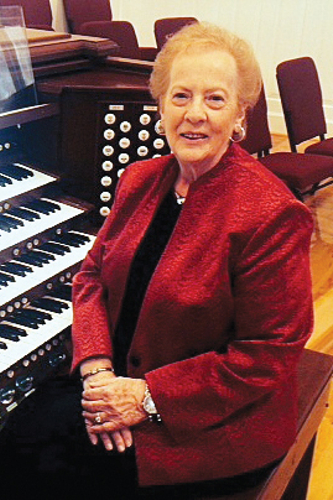 Roberta Rowland-Raybold
Roberta Rowland-Raybold (b. 1938) began her piano study at age four followed by an introduction to the organ at age six, encouraged by her father, a pipe organ builder. She was the youngest charter member of the Westchester County, New York, Chapter of the American Guild of Organists and has served as AGO Chapter Dean and District Convener in New York State. Roberta has studied organ with Trudy Faber, Judy Congdon, and Donald Busarow and improvisation with Donald Busarow and Gerre Hancock.
Roberta spent twenty-five years in the insurance industry, during which time she served as Director of Music at University Baptist Church in State College, Pennsylvania. She has also held positions in Episcopal, Presbyterian, and Lutheran churches in several states. For several years she was an instructor for Hartwick Seminary Summer Institute of Theology at Hartwick College, Oneonta, NY where she directed the Institute Choir.
A magna cum laude graduate of Wittenberg University in Springfield, Ohio, she majored in sacred music, organ performance, and composition. She held the position of Director of Music at Memorial Presbyterian Church in Xenia, Ohio, during her years there. While at Wittenberg, Roberta was also on staff of the Center for Musical Development, where she taught piano and organ. Roberta continued graduate studies at Eastman School of Music, Rochester, New York, and the Greatbatch School of Music at Houghton College. In 2012 she was awarded an alumni citation from Wittenberg University for outstanding achievement in the field of sacred music.
Roberta's compositions for organ, choir, and other instruments are published by Augsburg Fortress, Hope Publishing Co., and Lorenz Publishing Co.
Browse Publications