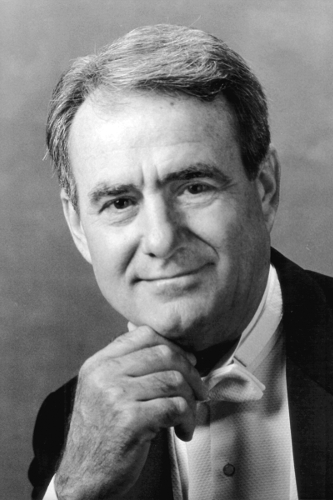 Eph Ehly
A research article published in Choral Journal, the official publication of the American Choral Directors Association, named Eph Ehly "one of the most sought‑after choral conductors/clinicians." He has conducted over eighty all‑state choirs and over 600 festival ensembles. As a conductor, author, lecturer, and clinician he has appeared in forty‑nine states, Canada, Brazil, Japan, Mexico, and several countries throughout Europe, and presented on more than 100 college and university campuses.
Dr. Ehly retired from the Conservatory of Music, University of Missouri‑Kansas City (UMKC) after twenty‑seven years of service. More than ninety Doctorate and 100 Masters Degree students have graduated under his supervision. From 1969–1972 he was Director of Choral Activities at the University of New Mexico, Albuquerque. Prior to that, he taught in public schools in Western Nebraska.
In 2010, Colorado University‑Boulder presented Dr. Ehly with the Outstanding Alumni in Music Award. The UMKC Board of Trustees' selection of Dr. Ehly for the Faculty Fellowship Award evidences the popularity of his unique and enthusiastic approach to teaching. In 1998 he was the recipient of the Mrs. Ewing M. Kauffman Excellence in Teaching Award. He is a past recipient of the UMKC Trustees' Teaching Award for Excellence, and he was twice presented the Amoco Foundation Outstanding Teaching Award. His alma mater, the University of Nebraska‑Kearney (UNK), presented him with their first Outstanding Alumni Award during its Diamond Jubilee Celebration. UNK also awarded him the Gary Thomas Distinguished Alumni Award. He is a past recipient of the Missouri Choral Directors Association Luther Spade Choral Director of the Year Award for his contributions to the choral art in the state of Missouri.
As a past recipient of two faculty grants, Dr. Ehly studied advanced compositional techniques in choral music while visiting leading composers and conductors in the Soviet Union, Poland, Germany, England, Sweden, Denmark, France, Italy, Austria, and Switzerland. Under the sponsorship of the Partners of the Americas program, Dr. Ehly served as Guest Artist in Residence to Belem, the capital of the state of Pará, Brazil, and a second residency in Rio de Janeiro.
Dr. Ehly received his Doctor of Musical Arts degree from the University of Colorado and his Master of Music degree from George Peabody College, Nashville, Tennessee. His Bachelor of Arts degree is from the University of Nebraska‑Kearney. He has studied with many notable teachers, including Jean Berger, Julius Hereford, Warner Imig, William Lynn, George Lynn, Louis Nicholas, Vincent Persichetti, and Lynn Whitten.
Eph Ehly has been a husband to Jan for more than five decades. He is a father to son Christopher, a family practice physician; daughter Heidi Jane, a senior clinical strategist; daughter‑in‑law Julie, a pediatrician; and son‑in‑law Gregg, a business analyst. Presently Eph is practicing being a grandfather to Hank, Rae Anne, Luke, Max, and Lucy.
Browse Publications